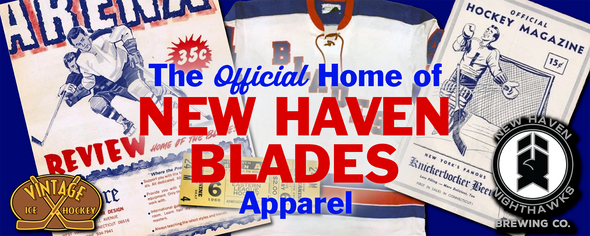 The New Haven Blades weren't the first hockey team in Connecticut's Elm City, but they were one of the longest lasting and most beloved. Hockey in New Haven dates back to the 1920s, and a number of different teams called New Haven Arena home over the years. But it wasn't until the Blades hit the scene in 1954 that there was a long-lasting franchise that really took root in the city. 
The Blades joined the Eastern Hockey League for the 1954-55 season. The EHL was a bus league with teams all throughout the Northeast and later expanded as far south as Florida. In only their second season, 1955-56, the Blades would win the EHL title in strong fashion, taking 43 of 64 regular season wins then dispatching perennial EHL powerhouses Johnstown and Clinton in the playoffs. The Blades were led at that time by Don Perry, a long-time EHL player/coach and a future NHL coach. Perry was a mainstay of the team, spending 12 seasons in New Haven as either a player/coach or a coach. 
Despite the early success, the Blades would never lift the EHL title again but they would be a strong force in the league for two more decades. EHL legends Blake Ball and John Brophy would both play for the Blades, and the team would make the playoffs in 15 of their 18 seasons. They would also reach the EHL Finals three more times, although they lost all three. The Blades would fold after the 1971-72 season, and the EHL itself wasn't far behind as the hockey landscape changed drastically in the 1970s. 
Today, the tradition of the Blades is kept alive by New Haven Nighthawks Brewing, and their Dave's Kick Save IPA, which is named for Blades and Nighthawks netminder Dave Hainsworth.