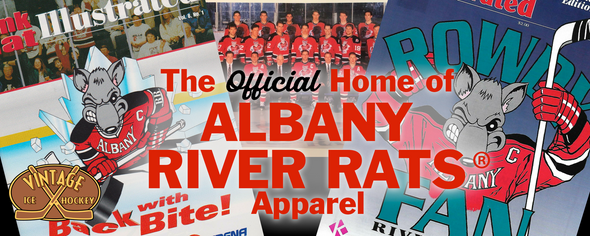 Albany River Rats® Apparel
Vintage Ice Hockey's mission is to celebrate defunct hockey teams that don't take the ice anymore, many of which still have a special place in people's hearts and memories. To do that, we're creating apparel for these teams that, in many cases, simply doesn't exist anywhere else.
With one of the greatest logos in minor league hockey history, the Albany River Rats™ took the ice for the first time for the 1993-94 season. But prior to their arrival, there was a mini-hockey war for Capital District hockey supremacy. Adirondack already played in Glens Falls in the AHL and the rival IHL put the Albany Choppers at Knickerbocker Arena (now Times Union Center) in Albany, moving much further east than the IHL had ever been. The AHL retaliated by putting the Capital District Islanders at RPI Arena in Troy, making it three teams in close proximity. The Choppers quickly imploded, and the Islanders would move to the Knick and rebrand as the River Rats a few years later in 1993. 
The River Rats were initially affiliated with New Jersey and had lots of pro players come through their ranks because of it. Their first head coach was Robbie Ftorek and other NHLers spent considerable time there including Patrick Elias, Zack Parise, Brian Gionta, Mike Dunham, and many others. They hit the ground running and won 38 games in their first season and 46 in their second. Their second season also saw them post the best record in the AHL en route to a Calder Cup win over Fredericton in a four game sweep. The River Rats would have continued success throughout the 1990s, making the playoffs each of their first seven seasons. 
After 2000, the Rats wouldn't have as much success although their parent club was still a regular Cup contender. The Rats would miss the playoffs six straight years, and after the 2005-06 season New Jersey would drop their affiliation. Carolina, and later Colorado, would become the parent clubs but the Rats weren't super stocked with talent. Keith Aucoin was a mainstay during this time and Johnny Boychuk spent a season in Albany before making it big in the NHL. The team would play around .500 for the four years they affiliated with Carolina and made the playoffs three times. After the 2009-10 season, the franchise would be relocated to Carolina and renamed the Checkers. New Jersey would make a return to Albany, as the Albany Devils would take over hockey at the Knick, moving in from Lowell, MA.