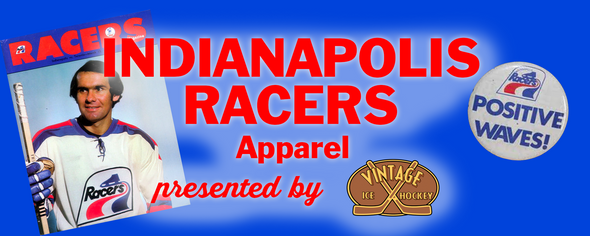 Indianapolis Racers Hockey Merchandise
The Indianapolis Racers were a WHA expansion team for the 1974-75 season, the WHA's third. They were a tumultuous franchise that changed hands four times in their five season existence, but an exciting one on the ice with passionate fans and some famous players.
They struggled out of the gate in their first season, winning only 18 games and finishing last in the league. For Year 2, they would turn to the last head coach of a Canadian Stanley Cup winner, Jacques Demers. Under Demers, the team would win a combined 71 games the next two years, and making it to the second round of the playoffs each time. Unfortunately, Demers would move on after the 1976-77 season and the team would falter on the ice and financially.
The Racers would win only 24 games in 1977-78, and with the looming threat of a WHA merger that wouldn't include the Racers, made a splash by signing 17-year old Wayne Gretzky. But with the business side of the operation in desperate straits, Gretzky would be sold to Edmonton after only eight games in a Racers uniform. His future teammate in Edmonton, Mark Messier, played five games on a trial contract for the Racers before being released and picked up by the Cincinnati Stingers. But after having two Hall of Famers in one season, the Racers would fold after playing only 25 games in 1978-79. At the end of the season, the WHA would merge and the rest is history.