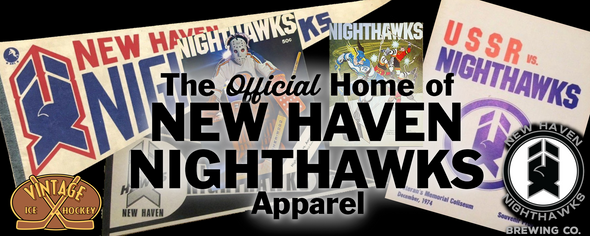 The New Haven Nighthawks started play in the AHL for the 1972-73 season with the New Haven Blades folding after the prior campaign. The Nighthawks would be the first team to open the brand new New Haven Coliseum in '72 and they would be the main tenants for much of the arena's lifespan. 
The Nighthawks fielded strong teams throughout much of the 70s and early 80s, which included a span of 10 straight playoff berths including two finals appearances in 1978 and 1979, although they would lose in both of those series. In 1979 and 1980, the team posted 46 wins each year, a franchise record. The team wouldn't have quite as much success in the 80s and early 90s, as they would make the playoffs in only four of their final nine seasons, however they did have a memorable run in 1988-89. The Nighthawks finished 4th in their division and had the lowest point total of the eight playoff teams, but would knock out Sherbrooke and Moncton in six games each to reach the AHL finals. They would lose in the finals to Adirondack to cap an unlikely playoff run.
The Nighthawks kept the same logo throughout their history but went through some color changes over the years as their big league affiliation changed. They started with a yellow and blue color scheme, which did not correlate with their Minnesota affiliation. By 1977, the team became an affiliate of the much more local Rangers and donned red and blue. In the mid-80s, they would change to silver and black, as they became affiliated with Los Angeles. 
The team can also boast a number of pro alumni players and coaches including Willie O'Ree, Bob Nystrom, Chico Resch, Bernie Nicholls, and Glenn Healy. A number of their coaches would also make the big show, including Robbie Ftorek, Don Perry, Parker MacDonald, and Doug Carpenter. 
Today, the tradition of the Nighthawks is kept alive by
 

New Haven Nighthawks Brewing, which features Nighthawks Light, Nighthawks Old Time Ale, among other specialty beers.