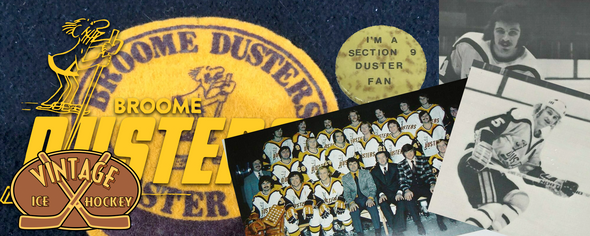 The Broome/Binghamton Dusters were the first in a long line of hockey teams playing at the Veterans Memorial Arena in Binghamton, New York. The Dusters became famous nationally for their feature in the movie Slapshot, as one of the opposition teams in the flick.
Known originally as the Broome Dusters from 1973-77, for their home county of Broome, the name later changed to the Binghamton Dusters for their home city, when the original NAHL franchise folded and a new AHL one took its place. The name of the Dusters hasn't been used in Binghamton since the 70s, but the city has had a presence in the AHL ever since.  
If the cartoon character in the Dusters' logo looks familiar, you've got a sharp eye. The logo is an ice-skating caveman designed by John Hart, who created the comic strips 'Wizard of ID' and 'B.C.'. We proudly offer these designs at Vintage Ice Hockey with the permission of the Ida Hart Trust. Mr. Hart's legacy lives on today with brand new comics at JohnHartStudios.com.