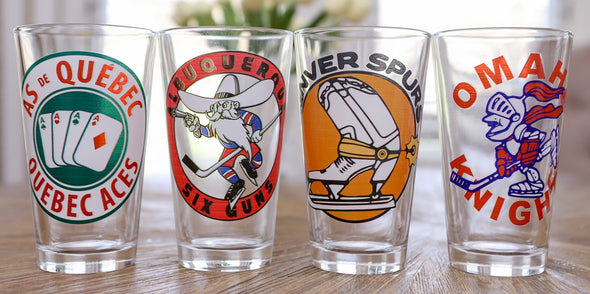 Vintage Hockey Pint Glasses
Our vintage hockey pint glasses are popular for a reason. They're durable enough for daily use and feature crisp, vibrant colors and retro hockey team designs. With free shipping and over 200 team designs to choose from, pick out your favorite old-school hockey team pint glasses below so we can share a toast to all things vintage hockey! And if you're searching for other throwback hockey gifts and collectibles, be sure to check out our commemorative vintage hockey coffee mugs and koozies®.
Special Offer: Buy one, get one 62% OFF!
Our hockey pint glasses are $28.99 each, but your price is reduced to $19.99 for each glass when you purchase two. This special discount will automatically be added to your cart when you have two glasses in the cart.
For Your Safety & Satisfaction
Please note, we recommend washing your pint glasses by hand before using them to remove residue from the printing process. Our glasses are professionally printed with a digital inkjet printing technique that transfers designs line by line for optimal logo precision. This means that faint horizontal lines might be visible on the final product. We also recommend keeping these glasses out of the dishwasher and washing them by hand to help them last for years to come.