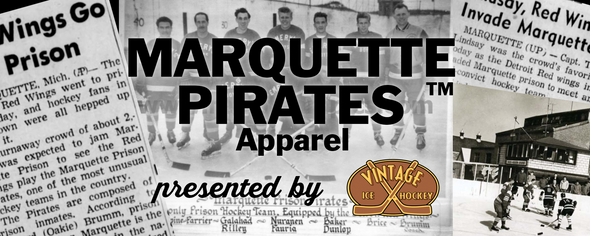 Vintage Ice Hockey's mission is to celebrate defunct hockey teams that don't take the ice anymore, many of which still have a special place in people's hearts and memories. To do that, we're creating apparel for these teams that, in many cases, simply doesn't exist anywhere else.
Believe it or not, the first outdoor hockey game featuring a pro team occurred all the way back in 1954. At a prison in Michigan's Upper Peninsula. 
On February 2, 1954, Detroit faced off against a team from the prison, the Marquette Pirates -- aka Emery's Boys -- named after the prison's warden. The story goes that Jack Adams and Ted Lindsay visited the prison as a goodwill gesture, and were asked to come back later on and play a game there. It seemed unlikely at the time since the prison didn't have a rink. But some months later the prison's athletics director built a rink and invited the team back to play. And play they did. Hall of Famers like Gordie Howe, Lindsay, Terry Sawchuk, and Sid Abel took the ice against the Marquette Pirates inmates. The first period was a rout, with the prisoners losing 18-0. After that the teams actually mixed up players and didn't keep score. The game ended without incident and is a rather unbelievable part of hockey history.