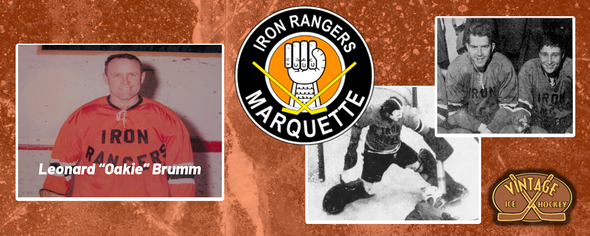 The Marquette Iron Rangers were a semi-pro hockey team based in Marquette, Michigan from 1964-76. They played at the historic Palestra in Marquette. The team's name is for the large deposits of iron that are prevalent around Lake Superior in the upper peninsula of Michigan and in Northeastern Minnesota. The team is also known for the Carlson brothers -- who played the three Hanson brothers in Slapshot -- who played a season in Marquette in 1973-74. Probably the Iron Rangers' best season was 1968-69 when they topped the league with 31 wins in 38 games.
The Iron Rangers also have another historical note - they were the first team to pay a female to play ice hockey. Karen Koch tried out -- and made -- the team for the 1969-70 season as the backup goalie in the USHL making $40 per game. This was back when the USHL was semi-pro as opposed to it's non-paying, amateur status today. 
A portion of the proceeds from sales of Iron Rangers merchandise is donated to the Oakie Brumm/Iron Ranger Memorial Scholarship Fund.