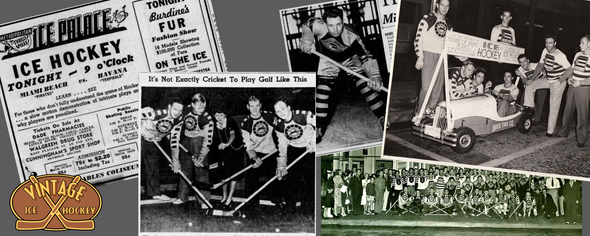 The Havana Tropicals were a member of the four-team Tropical Hockey League. The THL played one official season in 1938-39 in... Miami, Florida at the Metropolitan Ice Palace. Yes, the earliest known pro hockey in Florida took place over 90 years ago.
The THL consisted of four teams (Tropicals, Miami Beach Pirates, Coral Gables Seminoles, and the Miami Clippers). The players on the teams were purely Canadian imports though, so the Tropicals had neither Cubans nor Floridians in their ranks. The Tropicals would go 4-11 in their only season, and Coral Gables would take home the league title by going 12-2. Newspapers show the league may have persisted for another year or two, but it's unclear and if it did go further it didn't garner much attention.
The THL was truly well ahead of its time, as it wouldn't be until the Jacksonville Rockets of the EHL came to Florida in 1964 that the state would host pro hockey again. Miami itself wouldn't have another pro team until the Panthers came to town more than a half century after the THL in 1993.