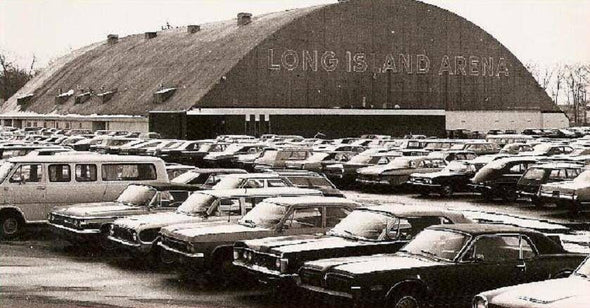 Opening in 1959, the Long Island Arena was an oval shaped quonset hut on Veterans Highway in Commack, Long Island. Part of the post-war suburban sprawl, the arena was originally dubbed by it's creator "Madison Square Garden East" but was orders of magnitude smaller and degraded fairly quickly. 
The arena was home to three hockey teams, first the New York Rovers, originally an MSG tenant relocated and reincarnated in the suburbs. They would last two seasons before changing their name to the Long Island Ducks for the 1961-62 season and from there a legend was born. The Ducks and their fans were a raucous, rough and tumble brand of old time hockey. Visiting LI Arena for opponents was always tough and they might take a punch from either their on ice opponents or the fans. The Ducks would win the Eastern league title in 1965. The Ducks would fold in 1973, and in their place the LI Cougars would take the ice for a few seasons. 
During its hey-day they arena also hosted wrestling, one season of the ABA's New York Nets and a couple other one-off basketball teams (New York Tapes and yes, Long Island Ducks basketball). It also hosted lots of concerts, and is famously the place where part of Peter Frampton's Frampton Comes Alive was recorded. 
Eventually unsuitable for events, the arena would be converted to a flea market in the 1980s, and would be demolished in 1996.