July 11, 2023
The Best Gift Ideas for the Hockey Fans in Your Life
Top gift ideas for hockey fans, handpicked by our hockey fans
Choosing gifts for hockey lovers isn't always the easiest task. If you don't want your gift to end up in a random trinket drawer or a Goodwill donation box, we have several unique gift ideas for hockey fans that are sure to be treasured for years to come. Our list moves beyond what a simple Amazon or Google search can turn up and provides links to exclusive apparel your loved one may not even know exist!
Why These Unique Gift Ideas Will be Appreciated by Hockey Lovers
This list was curated by life-long hockey fans that are very knowledgeable about highly exclusive, cool gifts for hockey fans. We went around the office and solicitied ideas from our staff of hockey buffs to see what they would want to get and they came up with some great ideas! You don't have to be into hockey to be able to give a great hockey gift - just read on for some ideas.
Retro Hockey Apparel
Retro Hockey Jerseys
Hockey Equipment
Hockey Game Tickets
Hockey Souveniers/Collectibles
Gift Cards
1. Exclusive Retro Minor League Hockey Apparel
What do you get the hockey fan that's seen it all and has everything? Rather than doing a random internet search and selecting generic apparel from Amazon, buy the hockey fan in your life something unique and original. Get them something they've never seen before!

Minor league hockey has been a popular pastime in the US and Canada since the early 1900s and there have been hundreds of teams that have come and gone over that time, likely even ones in your state or city! There are so many interesting logos and stories that there is almost surely one that will relate to or resonate with your gift recipient!

Vintage Ice Hockey is a great resource for these vintage hockey teams and has apparel that celebrates defunct minor league hockey teams that don't take the ice anymore. It has apparel featuring teams from over 40 states and all Canadian providinces.

Even though we love being immersed in the current sports world, we also want to ensure that some of the iconic teams of the past are never forgotten. By putting some of the most notable minor league hockey logos on our merchandise, we're keeping the memory and unique histories of these defunct teams alive. When your loved one is seen wearing an Albany River Rats t-shirt or a Kentucky Thoroughblades hoodie, their apparel becomes a conversation starter.

Not sure where to start? With our "shop by state" option on our website, you can search defunct hockey teams from your area and give a unique hockey gift that unlocks a little bit of history for your loved one. Or if you'd like to see all of our offerings at once, you can shop by team alphabetically from A to Z.

Vintage Ice Hockey offers vintage hockey jerseys, tees, hoodies, crewnecks, hats, and beanies. We also have kid's t-shirts and hoodies for the young fan in your life.

2. Retro Hockey Jerseys
Though all of our classic hockey apparel is premium quality and eye catching, nothing competes with a unique retro hockey jersey. Many of the jerseys we offer can only be found on our website because no one else focuses so intently on hockey like we do. Our throwback hockey jerseys are modern replicas that capture the spirit of the vintage designs and styles from these beloved—but hard to find—hockey teams. And as diehard hockey fans who've worn many jerseys through the years, we can assure you that our jerseys are not only tough and durable for playing use, but also extremely comfortable and stylish for casual everyday wear as well.

We currently have jerseys available for over 25 different teams with more being added every month.

Not only are we producing minor league hockey jerseys and apparel that in some cases simply cannot be found anywhere else, but we're also putting the time in to do the research and get them right. By searching through old memorabilia, pictures, and even talking to the folks who were there, we take the time to make these jerseys as true to the original while also adding some subtle creative flair that old-school and new-age hockey fans alike will love.
3. Hockey Equipment
While the idea of purchasing hockey equipment might be a little intimidating if you're not as hockey fan or player yourself, websites like Hockey Monkey and Pure Hockey are great resources to find a variety of equipment. We recommend prioritizing the brands Bauer or Warrior, as they have proven to be favorites for many players over the years and are the most recognized brands in the business. Hockey equipment is more than just skates, pucks, and sticks too. You can also invest in helmets, gloves, pads, or even tape to help keep the hockey lover in your life safe while they're on the ice.

Hockey equipment can be pretty expensive, another economical (and eco-friendly) option if you're looking for a cheaper alternative would be buying from Sideline Swap. Sideline Swap was created by a group of college athletes that had learned all too well how expensive buying sporting equipment can be. So to provide a more affordable solution, Sideline Swap was created as a marketplace where people can buy and sell used and new hockey gear.
4. Hockey Game Tickets
Gifting "experiences" has become a very popular norm in our culture in the last few years, many times in an effort to reduce the amount of physical gifts that are given. The optimal experience for a hockey fan is tickets to a hockey game. Seat Geek and Ticketmaster are prime resources for purchasing tickets for events, but you'll want to ensure you follow a few important steps to have the best purchasing experience. Both of the aforementioned websites have several event types listed across the top of their homepages. Find those, click on "sports", and refine that search by "hockey".

You'll also want to be familiar with the arenas or event venues that may host hockey games in your area. Don't forget that you don't have to always buy NHL tickets! There are many lower level leagues that offer a lower priced experience that is still fun such as the American Hockey League (AHL), East Coast Hockey League (ECHL), Federal Prospects Hockey League (FPHL), Southern Professional Hockey League (SPHL), and many others.

We also suggest going to websites for specific teams, as you can sometimes find special ticket deals and purchase season tickets through internal links on their websites. Taking this route will sometimes just create another step in the journey to purchasing, however, as they will usually reroute you to Ticketmaster or something similar.

Another money saver for ticket purchasing is checking websites like Groupon, as they sometimes offer discounts that could apply to your purchase.
5. Vintage Hockey Souvenirs & Collectibles
Whether they're grabbing their morning coffee or pouring a drink before the big hockey game, we have drinkware options your hockey lover will appreciate! We all have a favorite mug or glass we reach for first, and providing a gift that your loved one could utilize daily is every gift giver's dream!

We offer a very wide variety of hockey-themed drinkware. Our vintage hockey pint glasses offer over 200 logo options, and we have a standing BOGO offer that will earn you 62% off your second glass when you purchase two. Our classic hockey coffee mugs and glasses are made with high-quality, durable materials and our designs have eye-catching, vibrant colors. Just remember - these are hand wash only!

We also offer hockey Koozies that would make great gifts as well. If you're looking for a less expensive gift or stocking stuffer for a hockey fan, our Koozies would be a fun choice.

Another option for collectibles would be our vintage hockey puck collection. The pucks are official Inglasco pucks with our own special designs on them. Our pucks are generally $19.99, but we sometimes offer deals that could allow you to snag one for free! Be sure to check out our newly released pre-order hockey jerseys, as many times those will ship with a free puck.
6. Gift Cards For Hockey Fans To Choose Their Own Merchandise
When in doubt hockey gift cards are always a great, safe gift option. All of the websites we have mentioned above offer gift cards for purchases. While this is a great gift on its own, there are many ways to "spruce up" a gift card to make it a more exciting present.

For presentation purposes, a cool gift idea for a hockey fan would be to nestle the gift card within one of our Koozies. You could also make it part of a full gift basket equipped with a gift card, Koozie, pint glass -- and maybe even a six pack!

A similar idea could be applied to our mugs as well. A great gift bundle idea would be placing the gift card inside one of our vibrant hockey mugs and pairing that with a bag of their favorite coffee or coffee pods.
Shop for Vintage Hockey Gift Cards
More Posts from Vintage Ice Hockey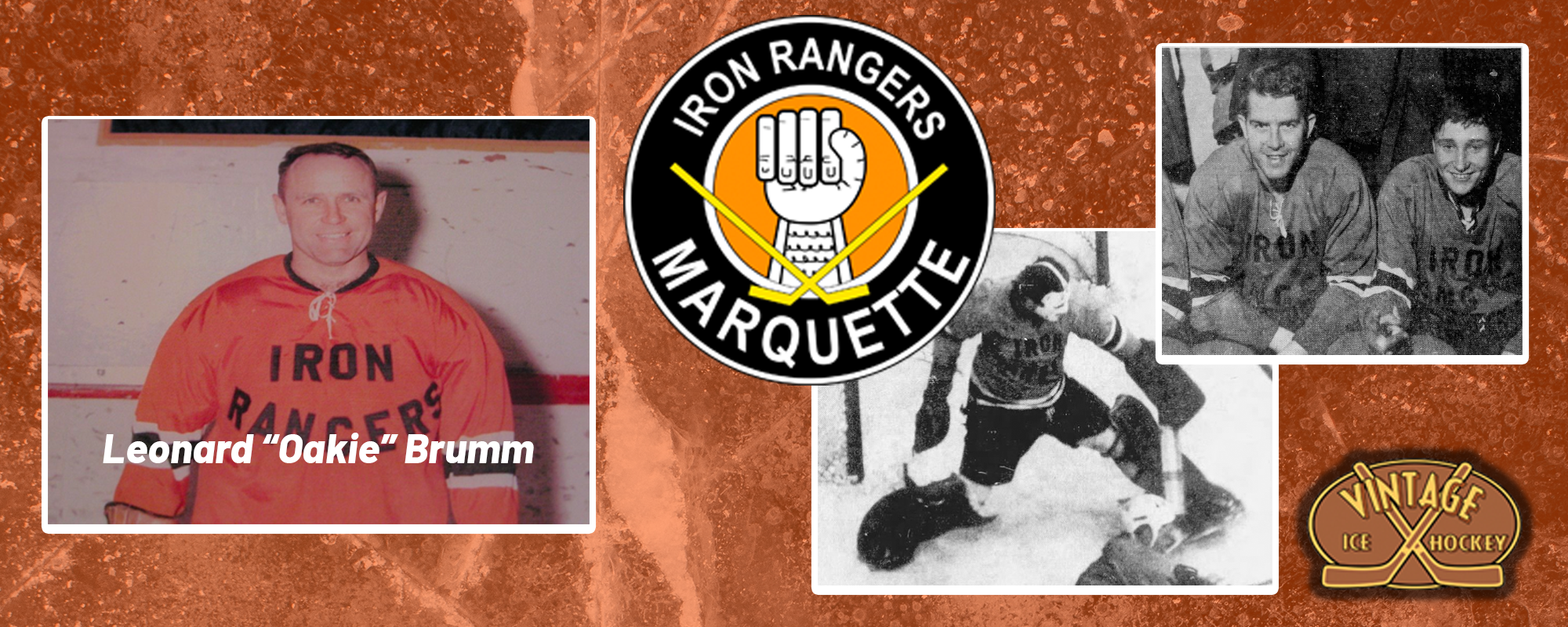 Kevin Schultz | Sep 17, 2023