September 17, 2023
By Whitley Marcum
Marquette Iron Rangers Hockey: The Stories of Karen Koch, Coach Leonard "Oakie" Brumm, and The Carlson Brothers
Vintage Hockey in Michigan's Upper Peninsula
Vintage Ice Hockey celebrates defunct hockey teams and in doing so, we try to dive into the history of these historic franchises. Today, we tell the story of the Marquette Iron Rangers, hailing from the upper peninsula of Michigan.
Introduction
Karen Koch
Oakie Brumm
The Carlsons/Hansons
The Marquette Iron Rangers were a semi-pro team that won 5 championships over the course of their run in the United States Hockey League (USHL). They took the ice from 1964-1976 at the historic Palestra arena in Marquette. Marquette's population was comprised of hard working people who loved supporting the Iron Rangers during blustery Michigan winters. The Iron Rangers are a rather obscure team in the grand scheme of hockey history, but their stories will pique the interest of any hockey fan. Their tale includes cameos from Karen Koch (the first female hockey player to earn a paycheck), coach Leonard "Oakie" Brumm, and The Carlson Brothers (Slapshot's Hanson Brothers).

For starters, the Iron Rangers' home arena also has a pretty cool backstory. They played at the Palestra in Marquette, which has since been demolished back in 1974. The Palestra was the stomping ground for some of the first professional hockey teams. The Calumet Miners played there from 1904-1907 as part of the very first fully professional league, the International Professional Hockey League (IPHL). But just to give you an idea of what playing in a turn of the century arena was like 60-some years after it was built, the Iron Rangers attempted to heat the Palestra for the first time in its history in '64 by using four large portable heaters with permission from the fire department.

How the team came to be in 1964 was simply due to the camraderie of the Marquette hockey community. In Oakie Brumm's own words he "decided [he] wasn't going to go away to play hockey anymore, and the people in Marquette wanted a senior team. So we got Dewey St. Cyr, myself, and Jack McCracken, and Bill Todd... We put the organization together." The team had to guarantee 800 season tickets sold before the USHL would grant the franchise, to help maintain the financial stability of the team and league. Marquette passed that test and made their home debut in October 1964, a 5-3 loss to the Green Bay Bobcats.
As the Iron Rangers started tryouts and pre-season practice in 1969, the team was coming off a championship season in a tough USHL. Four goalies took the ice and among them was Karen Koch, who would become the first woman to get paid to play hockey.

Koch was originally from Gibraltar, Michigan, near Detroit but she made the long trek up to Marquette in hopes of making the Iron Rangers as the teams in the Detroit area wouldn't give her a tryout.

In 1969, Koch (pronounced "cook") enrolled at Northern Michigan University. NMU was located in Marquette, and some sources say the then 18-year old chose NMU because of its proximity to the Palestra and Iron Rangers. Koch knew she wanted to break into playing professional hockey and she had her eye on Brumm's Iron Rangers. In October, the Iron Rangers held open tryouts and Koch showed up in full goalie gear ready to compete for a spot on the team.

Brumm's Iron Rangers. In October, the Iron Rangers held open tryouts and Koch showed up in full goalie gear ready to compete for a spot on the team.

Coach "Oakie" Brumm looked on as four goalies took the ice for tryouts. One was Brian Lunney, who the Iron Rangers had on loan from the Toronto Maple Leafs and had been in Canada's Olympic system. He was a shoo-in to be the starting goaltender for the team. The other two goalies in contention were a small, 5 '5, slender goalie who was quick and had obvious skill (Koch), an unnamed young man with very little athletic ability, and Lonnie Lytaikainen, a local with some potential. With Lunney already a decided starter, Brumm had his eye on Koch to join the team as back up. He didn't realize Koch was a woman until his captain, Brian Cook, pointed it out.

Brumm was riddled with confusion. He had no reason to cut Koch based on talent. He did, however, have other questions running through his mind that held him back from immediately offering Koch a spot on the team. Recalled Brumm in 2000, "What if she gets hurt? Where is she going to change clothes? Just how good is she? For one of the few times in my life I didn't know what to do. She had done nothing to justify cutting her. So, I told her we should see how well she did and that she'd be given a fair tryout."

After rifling through his hesitations, Brumm gave her a fair tryout. For her part, Koch did enough in tryouts to earn a spot and eventually showed another unexpected positive attribute; she would be great for publicity.

Once news broke that the Iron Rangers had a female netminder, Brumm and other teams in the league saw the opportunity for profit if Koch was added to the team. Goaltending was a spot for the biggest daredevils in hockey, and spectators would flock to both the Palestra and opposing arenas to watch her play. To make room for Koch, Brumm decided to hire 17 skaters and three goalies (Lunney, Koch, and Lytaikainen) for the 1969 season. Koch was the third and was offered payment of $40 a game. This made her the first female hockey player to ever earn a paycheck.

Koch was elated. She told interviewers that she loved hockey so much she would have played for free. Koch had tried to get into other senior hockey leagues several times to no avail. She was thankful to finally have her shot.

Unfortunately, Koch's place on the Iron Rangers took a toll on her. Her teammates were not supportive of Brumm's decision to put Koch on the team, although Brumm noted that even the most chauvinist eventually got on board. They called her derogatory names and teased her incessantly. After getting that sort of treatment from her own teammates, you can imagine the heckling that came from opposing teams throughout the season as well as what was printed and said in the press. Her mental health was struggling so much at one point that she started taking tranquilizers before games to ease her nerves. Koch did not see herself as a gimmick: she could play!

Koch had to prove herself to get any respect from fans, teammates, and opponents. She got her chance to do so when she filled in for Lunney during an exhibition game. She stopped every single shot that came her way. From then on, things started to snowball.

Her admiration continued to swell and leading up to the Iron Rangers' game against Sault St. Marie in Ontario, the Canadian Soo (the team in Sault St. Marie) "insisted" that she be named the starting goalie for that game. Even more, the town's mayor was a former well-known hockey player who begged Brumm to allow Koch to be the starting goalie and to allow him to take a penalty shot against her prior to the game's start. Brumm agreed and the spectacle filled the stands in Sault St. Marie. Koch stopped the mayor cold in front of a huge crowd and got a standing ovation. Fans stood and cheered for Koch while booing the mayor off the ice.

During the first period, Koch went on to stop 10 of the 12 shots taken. Marquette won 5-3, but the team's accomplishments paled in comparison to Koch's in the media's eyes. All anyone could talk about was their powerhouse female goalie.

All the sudden everyone was getting what they wanted. Koch was being recognized for something other than her gender, and the Iron Rangers were put in the spotlight. Prior to a Green Bay game later in the season, the auxiliary police force had to be called in to manage the huge sellout crowd that came to see her play. Brumm had gotten a call from Green Bay to make her the starter at that away game, too.

Koch's behavior during games after her rise in popularity was… risky? …arrogant? …reckless? Whichever adjective you choose, there's no question she pushed her limits. Photos of Koch taken throughout the season show stitches, scars, and black eyes scattering her face. Despite Brumm's insistence that she wear a mask and more protective equipment, she refused to utilize it. She claimed to be able to see better without a mask, so she stopped wearing one. Her behavior was such an issue for Brumm that he decided to release her with 10 games left in the season.

The Iron Rangers won the USHL Championship that year. Koch tried to continue her career in Canada but was eventually banned from playing men's hockey. It's difficult to find much on Koch's life after hockey, but Wikipedia has a small blurb that says she went on to earn a bachelor's and master's degree in English Literature from the University of Dayton. She's a nature buff with a black belt in judo and a brown belt in jujitsu. Of course, that's according to Wikipedia, so take that information as seriously as you'd like. For the most part, people have respected Koch's privacy over the last few decades. She got as much of the limelight as she could ever want in 1969 and has lived quite reclusively ever since.

Coach Leonard "Oakie" Brumm had a great, big life before he became a centerpiece in starting and coaching the Iron Rangers. We could do a whole post dedicated just to Brumm and everything he accomplished within the hockey world. Heck, Brumm himself wrote a book covering some of his exploits. He was an army veteran, played collegiate level tennis and hockey at the University of Michigan, started the Kuwait National Hockey League (yes, the middle eastern country), inspired one of the plot points in Slapshot, was the Athletic and Recreation Director at Marquette Branch Prison (where he started a hockey team – the Marquette Prison Pirates), wrote the book We Only Played Home Games, and of course coached the Marquette Iron Rangers. At the end of his life, Coach Brumm was the editor of a hockey newspaper and high school hockey coach while simultaneously fighting pancreatic cancer. There may not be another individual to ever exist that devoted their life so completely to hockey and in some very unique ways.
Coach Brumm grew up in Marquette and did a lot to build up the community. He was part of the group that started the Iron Rangers in 1964. During his time with the team, he worked with a lot of college kids from Northern Michigan University. He spent a great deal of time with young people who were looking to make the best decisions for their future. On the flip side of that, he spent some time with young people in Marquette Prison that were paying the price for not making the best decisions in their past. During his time as the prison's Athletic Director, he used hockey to create an outlet for prisoners by starting a prison league. As you can probably guess, his book We Only Played Home Games tells of his time there. The juxtaposition of coaching the Marquette Iron Rangers to coaching the Marquette Prison Pirates is a common talking point when Coach Brumm's name enters the conversation in hockey circles.

You have to admire Brumm's love for hockey and how he used his love of the sport to inspire so many young men around the world. No matter where he was or what he was doing, he found a way to use hockey to change the lives of those around him for the better. It was his outlet for good and he used it well. That is the best legacy Brumm could have left: use what you love to make a positive impact on the world around you.

Slapshot's Hanson Brothers
The Carlson Brothers
The Carlson Brothers (Jeff, Jack, and Steve) are a famous trio that made their way around the hockey circuit and even found their way to Hollywood stardom! The trio spent one year with the Iron Rangers and played under Coach Brumm during the 1973-74 season. The Carlson Brothers and Brumm also saw some overlap in their careers when Slapshot used them for plot lines within the film. The Carlson Brothers are represented in Slapshot as the Hanson Brothers. Jeff and Steve were cast to play the roles that represented them. Dave Hanson (his real name) was brought in to replace Jack Carlson in the movie, as Jack was playing in the WHA playoffs at the time. The trio would become iconic as they were part of probably the best hockey movie of all time.
As far as non-Hollywood hockey is concerned, each of the Carlson Brothers had a pretty decent career.

Steve played in the WHA with the Whalers, Oilers, and Fighting Saints. He also played for the Los Angeles Kings in the NHL. He played 225 games in his career. Despite a few scattered fights, Steve was considered a player with a lot of finesse.

Jack played in the WHA with the Fighting Saints, Oilers, Whalers, and played in the NHL for the North Stars and Blues. Fans loved him because he was not shy of racking up a few penalties in a game. In fact, he earned 1111 penalty minutes throughout his career.

Jeff played in the WHA for the Fighting Saints just like his brothers, but the rest of his hockey career wasn't quite as extensive as his two brothers'. He skated for teams throughout the minor leagues including the Johnstown Jets, Mohawk Valley Comets, Phoenix Roadrunners, and Muskegon Mohawks.

The "fouth Carlson" Dave Hanson spent time with the Birmingham Bulls of the WHA and make apperances for the NHL's Red Wings and North Stars thoughout his career. He averaged around penalty minutes per game in the WHA.

Ever since Slapshot was released in 1977, Jeff and Steve Carlson along with Dave Hanson have traveled around the country making appearances at minor league hockey games and other random hockey events.

The Iron Ranger franchise made many key decisions that solidified their name in hockey history. They were the team that hired the first pro female hockey player. They were led by the legendary Coach Brumm. Slapshot immortalized several people closely associated with the team. Maybe it was smart marketing or maybe it was just luck, but either way the Iron Rangers' associations with so many important people within the hockey timeline will leave them immortalized in hockey history for years to come.
More Posts from Vintage Ice Hockey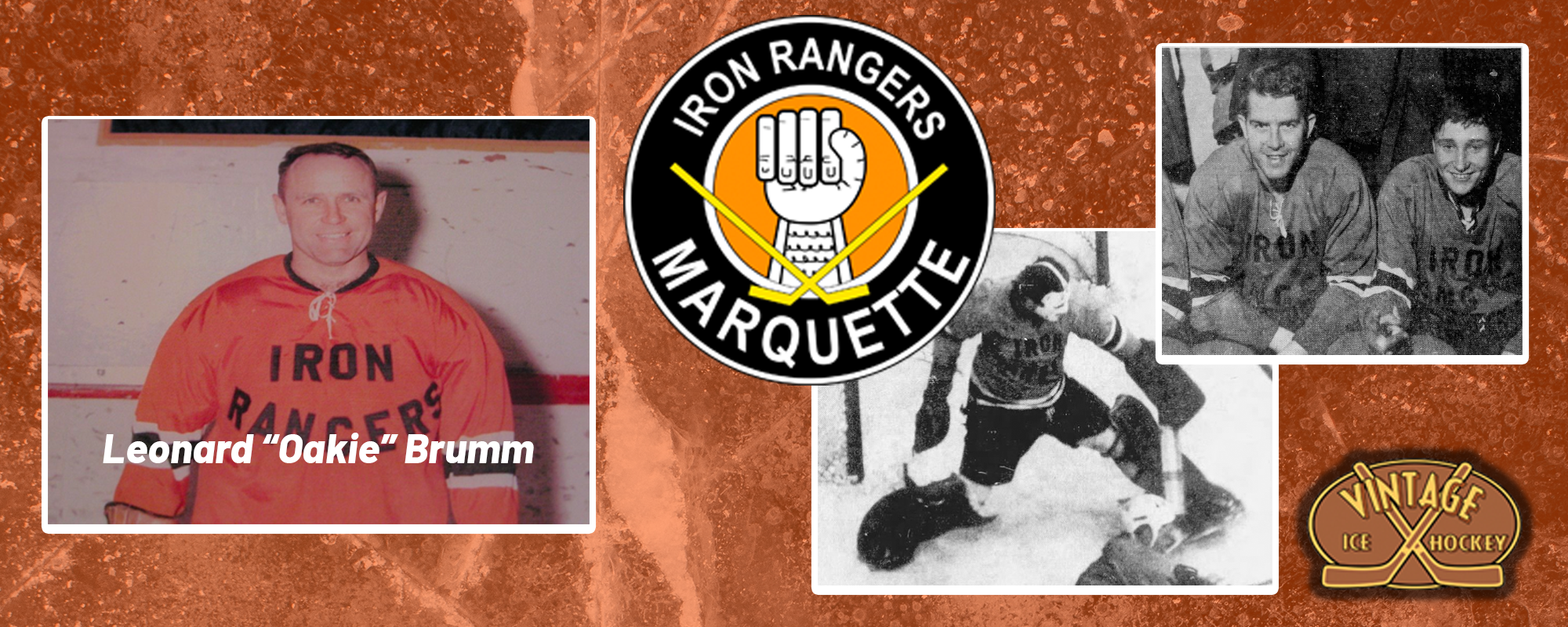 Kevin Schultz | Sep 17, 2023