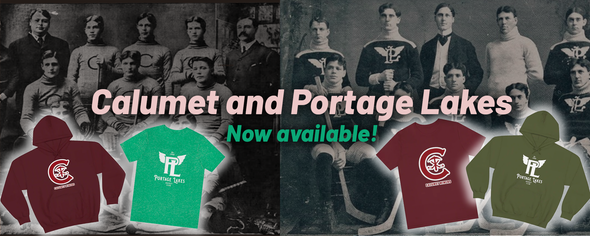 Calumet and Portage Lakes
The Portage Lakes Hockey Club from Houghton, Michigan is believed to be the first or one of the first professional hockey teams in North America. Portage Lakes played their first game at the Amphidrome (now the site of The Dee in Houghton) on December 29, 1902 in front of a crowd of 5,000. They beat the University of Toronto, 3-2. A little more than a year later, they beat the Montreal Wanderers for the "World Championship" in March 1904.
The Calumet Miners are in the same vein, as they started up in 1904. That year, both teams would join the IPHL (International Professional Hockey League) in what is presumed to be the first fully professional hockey league. The IPHL sought to establish inter-state (and country) competition for professional teams in the US and Canada, as Canada's OHA had recently banned pro teams from playing the OHA's amateurs. In the IPHL, the teams generally played on natural ice, which made the season particularly short. So despite being professional, most of the players still held other jobs. Five teams from Michigan, Ontario and Pittsburgh competed in a short 24-game circuit, for the 1904-05 season.
The Miners had a very successful first season, wining the league with 18 wins in 24 games. Future HOFers Jimmy Gardner and Hod Stuart played for the team, with Stuart being lured to the Pittsburgh team after the season. The following two seasons, the Miners wouldn't have the same success and finished near the bottom of the league. Calumet played at the Palestra in Marquette. 
The Portage Lakes Hockey Club would win the title in the second and third seasons of the league, with 19 and 16 wins, respectively. In their second season, they picked up future HOFer Hod Stuart from local rival Calumet, which likely aided their success. 
After the 1906-07 season, Canada implemented professional teams and along with the Pittsburgh club looking to stay closer to home, the IPHL folded and took Calumet and Portage Lake along with it into hockey history. 
The designs: We've created a custom design for both teams based on what they wore on their sweaters back then. For the miners, who wore a 'C' on their chest in red and grey, we've added a pick axe and crossed hockey sticks. For Portage Lakes, we pay homage to the 'PL' the team wore in white on the chests of their green sweaters.